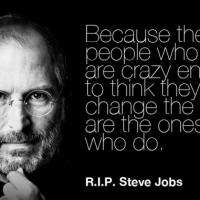 The Death of an Icon. The End of an Era.
Co-founder of Apple Computers, Steve Jobs passed away yesterday after losing his ongoing battle with pancreatic cancer.
I have always loved his revolutionary products and have been an advocate for Apple for many years. He has forever changed the way we consume information and embrace technology. We often discuss marketing, branding and product launches; Steve Jobs has set a bar that we can only hope to aspire too.
In his own words he expresses his philosophy of death elegantly:
"No one wants to die. Even people who want to go to heaven don't want to die to get there. And yet death is the destination we all share. No one has ever escaped it. And that is as it should be, because Death is very likely the single best invention of Life. It is Life's change agent. It clears out the old to make way for the new. Your time is limited, so don't waste it living someone else's life. Don't be trapped by dogma — which is living with the results of other people's thinking. Don't let the noise of others' opinions drown out your own inner voice. And most important, have the courage to follow your heart and intuition. They somehow already know what you truly want to become. Everything else is secondary." – Steve Jobs
The world has lost one of the great visionaries in history. Yet he continues on as in inspiration to all of us that seek innovation, perfection and success. Our condolences to his family and the folks at Apple Corporation, and all who admired him.
Raymond Aaron