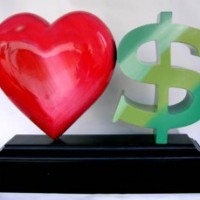 Wealth Secrets – All You Need is Love
You can go online any day of the week and find a million different Internet gurus that claim to have the exact formula to achieving wealth secrets. Some of these people have the right idea, but they simply don't have the experience to put proven methods to work. Other people are so far off track, and they never even realize it. Before you know it, you'll find yourself pushed into the latest Internet trend selling hair loss treatment or vitamin supplements.
Beware: don't do it unless you really love it. The wealth secrets that these so-called gurus haven't mastered are the distinction between doing what you love and less of what you don't. At the same time, don't make this tragic mistake, "I love it so much that I'd probably do it for free." That one thing that you think you'll do free, turn it inside out and make it the only thing that you'll do to make money.
The first thing you'll need to do is identify what you love, of course. Did you know that I will never join a gym even though I am healthy and happy? I hate going to the gym. I have to find different things to do to keep me interested. One of my favorite things to do is climb steps. This is why I live in a high-rise apartment. Whenever I travel, my managers always look for a hotel with lots of stairs.
I love stair climbing, so I created a goal to take on a 300-mile foot race in the North Pole by training myself with by climbing stairs with a 100-pound backpack every day. The first day, I couldn't even do one flight. By the end of the week, I was able to climb ten flights. Every small amount of effort I made brought me that much closer to my end goal. If I had chosen to do this by working out in the gym, it never would have happened.
Your first step in doing what you love is creating a real and uncensored list of loves. Sadly, most people tend to censor what they love. If they were to say I would love to spend more time with a certain friend, they censor it to say all of their friends in order please everyone. Usually, when I ask someone to make a list of what they love, the first thing on the list is spontaneous and the rest are censored because, they feel like they should say they love their wife, job, school, etc.
The list needs to be about you and what you love. Otherwise, you'll just be setting your list up to live the same life that you already have. Do you love to read? When is the last time that you sat down and read for the sake of enjoyment? Do you love to spend time with your children? When's the last time that you set aside time just for them? The things that are important to you need to be a priority.
To master these wealth secrets there is a proven formula that I have been working on for the past 20 years. It is called, "The Annual Love Letters". To find out more, check out the free link below.
And, you can get even more on this topic by enjoying my entire bestselling book DOUBLE YOUR INCOME DOING WHAT YOU LOVE at http://RaymondsBook.com/gift, so that you get started right away living the life you deserve.
Remember that the reason you are interested is so that you can have the time and financial freedom to live the life of your dreams. Now is the best time to start, by clicking on http://RaymondsBook.com/gift.
Also, follow me on http://Twitter.com/RaymondAaron and I will immediately follow you back.
Finally, please become my Facebook Fan at http://RaymondAaron.com/FB.