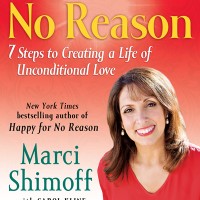 The Best Kept Secret About Love is Out!
What if you could feel like you're in love EVERY DAY of your life? And what if you could dissolve any heartache, pain, or emptiness and experience the ecstasy of an open heart?
You can… by learning how to Love for No Reason.
In her extraordinary new book Love For No Reason: 7 Steps to Creating a Life of Unconditional Love, my friend and colleague Marci Shimoff, #1 New York Times bestselling author, shows you how to experience a deep and lasting state of love that doesn't depend on another person, situation, or romantic partner. You'll be able to:
Open your heart and become a magnet for love
Enjoy more fulfilling relationships with others AND yourself
Turn off your body's stress response and turn on your body's love response for better health and well-being
Experience more success and satisfaction
Help your family, community, and the world
Marci's onto something BIG. I'm heartily recommending this breakthrough book to everyone, giving it two VERY enthusiastic thumbs up!
Get it TODAY, and you'll also receive the exclusive "Love For No Reason Gift Package" as a BONUS. Click here: